DIGITEN WTC100 Wireless Thermostat (with 2 Receivers) Plug-in Temperature Controller Outlet Programmable Remote Control Thermometer Heating Cooling Mode for Fan Heater Greenhouse Home Brew Reptile
📡【Wireless Remotely Control】: Remotely set and control, portable design, which is more convenient and handy. The distance of the remote control can reach 50-100m (empty ground). It can save all settings even if the power failure. One remote can control multi plugs.

🕹️【Easy to Use And Program】: It only takes two steps to set up, just plug in the device and select the heating/cooling mode, and it will automatically match and work your home equipment. Freely switch between ℃ and ℉.

💰【Save Money】: The thermostat will help make your home not only Comfortable but energy efficient. The thermostat can save energy costs on heating or cooling. It saves energy by adjusting the temperature.

💯【High Accuracy And Safe】: Built-in highly accurate temperature sensor, ambient temperature is detected automatically by remote controller. When the current temperature reaches to the target temperature, the thermostat socket will stop working. High and low temperature alarms are available, the maximum load can reach 14A, 1500W.

🎈【Widely Used】: Widely used for greenhouse, wine cellar, home brewing, fermentation, baby room, attic fan, swamp cooler, evaporative cooler, space heater, wall panel heater, electric fireplace heater, garage, etc.
Committed to making life smarter, easier and more comfortable, the WTC100 is an easy-to-use, safe and reliable digital temperature controller, which is used as over temperature protection and automatic temperature control system.

It's the best choice for greenhouse, aquarium, home brewing, fermentation, wine cellar, beer brewing, pet incubation, reptile breeding, etc.

Specification
Operating Voltage: 100-240V AC, 1500W@110VAC, 3000W@220VAC
Load Capacity: 100-240VAC 14A
Remote Batteries Required: 2PCS 1.5V AAA
Transmission Distance: 50-100m (Isothermal Space)
Measuring Temperature Range: -10℃~80℃, 14℉~176℉
Activation Temperature Range: 0℃~70℃, 32℉~158℉
Temperature Accuracy: ±0.1℃/℉
Control Precision: ±1℃/℉
High and Low Temperature Alarm: 0℃~80℃/32℉~176℉
Remote Control Refresh Frequency: 20 Seconds
Temperature Probe: Built in remote

Cooling Mode and Heating Mode
When the temperature RUN value is higher than the STOP value(RUN >STOP), the controller is in cooling mode.
When the temperature RUN value is lower than the STOP value(RUN <STOP), the controller is in heating mode.



Temperature is detected by the remote.
One remote can control multiple receivers.
The remote and receiver can be placed in an isothermal and open space within 50-100m.

Package include:
1* Remote Controller
2* Receivers
1* User Manual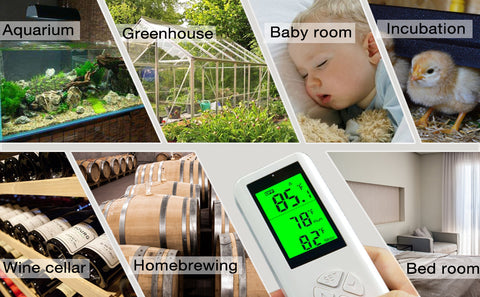 Super Easy Setup
I use this to control heaters in a greenhouse, was simple to install and does exactly what I need.