DIGITEN Aquarium Auto Top Off Water Filler System Fish Tank Smart ATO Refiller Coral Reef Tank Automatic Water Level Controller
Features:
🐠【Easy to Install】The aquarium auto top off system is extremely to install and maintain. Easily install on terrarium with a wall thickness of no more than 5/8 inches (16 mm). The range from the top of the tank to the water level is 0-6.7 inches (0-17 cm). The durable PC material adjustable bracket can be fixed in the terrarium according to different water levels.

🌿【Integrated Design Without Setting】Plug and play, easy operation. Anti-overflow protection design and will automatically cut off power when water level is too high.

💧【Double Protection】Accurate dual-float water level sensor can provide over-filling protection. When the water level drops below the lowest water level, the power supply will be activated and the water pump will work automatically and shut down when the water level reaches the highest water level. When the first float fails, the second float will work.

🐚【Relay Control】The controller of the ato system integrates a relay and a stable circuit to protect the water pump and the water level switch more effectively.

🦐【Widely Applications】It is widely used in various aquariums, sump, fish tanks, coral reef tanks, etc.
The Reason to Choose DIGITEN ATO
The ATO system uses a double float water level switch (like "two eyes") to double monitor and protect the fish tank water level.
The controller integrates a relay and a stable circuit to protect the water pump and the water level switch more effectively.
The mounting holder is very firm, which can freely adjust the water level up and down, and it will not cause the water level switch to misjudge, no matter the swimming fish, water plants and so on.
The whole system is very easy to install, saving a lot of tedious work for DIY.
The stable system saves you from worrying about overflow when you go out!
We believe it's the perfect ATO for your aquarium!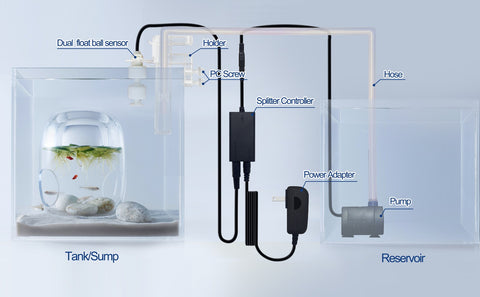 Smart Auto Top Off System
Automated Filling

Overfill Prevention

Easy to Use
* Make sure the water level is higher than the pump, to prevent pumps from running dry and failing.
* Make sure all cables are plugged into the hole fully.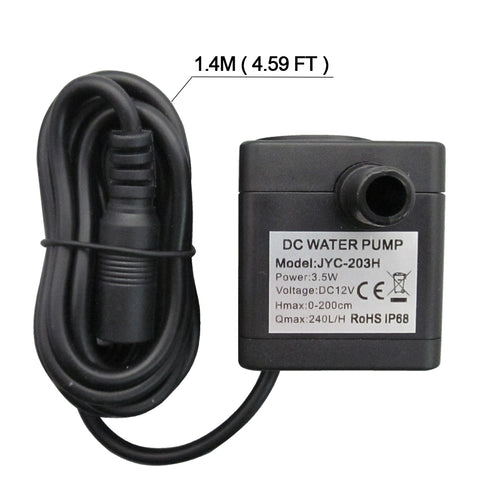 Pump Rated Voltage: 12VDC
Pump Max Power: 5W
Rated current: 0.5A
Pump Waterproof Grade: IP68
Pump Max Lift: 0.4-1.5m
Pump Max Flow Rate: 200L/H
Pump Noises: < 40db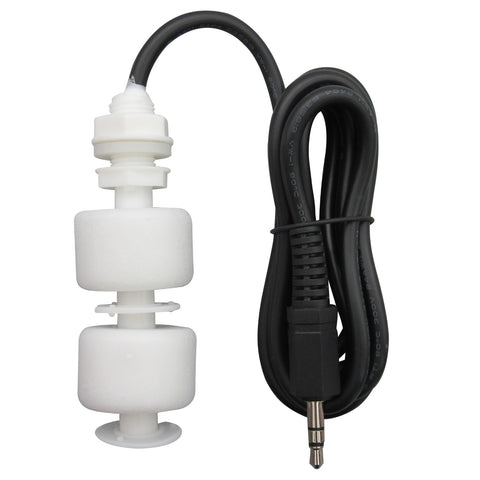 Dual Float Sensor Cable Length: 1m (3.28ft)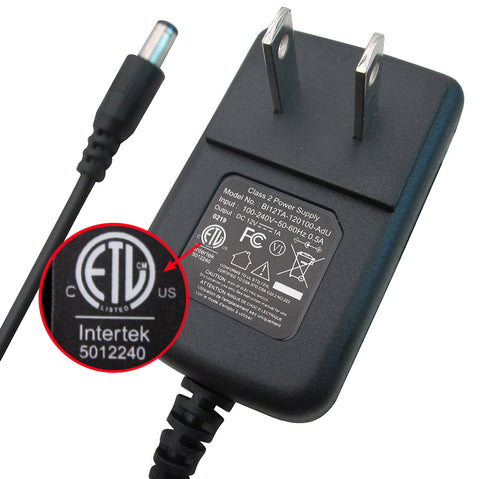 Power Adapter Input: 100-240VAC
Power Adapter Output: 12VDC, 1A
Power Adapter Cord Length: 1m (3.28ft)
Package Included
1 x Holder and Parts

1 x Dual Float Sensor

1 x Pump

1 x Power Adapter

1 x Splitter Controller

1 x 6*9MM Silicone Hose

1 x User Manual
---
We Also Recommend
Works very well
Simple and proven design. Works very well. The pump is very quiet and a generous amount of tubing is supplied with the unit. Control unit is small and all wire is sufficiently long to make the installation a breeze. I recommend this to anyone looking for a simple, trusted ATO system.
It's cheap, half the cost of the usual, with all the features u need
Best thing about this is the cost, hands down. I've been using to top off my berghia Nudibrach breeding setup. Keep the salinity exact-no swings, which is important when raising anything. Stability. It's very secure.Ive read every review and disagree with all of them.If you have problems,use ur common sense guys.Most ATO KITS SONT EVEN COME WITH FLOATS.IF THE FLOATS BOTHER YOU, but an"eye" for a few more bucks or buy a second float. They're meant to be replaceable. I'm buying a second one. I only wish they could deliver faster, but until then I can manually top off no biggie. It's better than buying the most popular and paying more than 3-4 time for the same functionality. If you have a Neptune Apex, all u need is a motor and float with the 6input switch box u can make yourself. Don't be lazy. Learn about your fish. Not necessary to spend a fortune. Spoiled rich kid brats are common in the Reefing hobby and can't figure out how to simplify because they can't think for themselves. 🤣😂
マメスイッチの互換品
海水水槽の足し水用に購入しました。
マメスイッチの完全代用品で性能も申し分ないです。値段も3分の1ですので、マメスイッチを買うのが馬鹿らしくなりました。
私はオーバーフローのサンプに直接付けましたが、もっと大きいサンプで取り付ける場合は幅が厚く、縁に取り付けが出来ないので別途でサンプ内にアクリルでT字スタンドを自作してそこに挟むのがいいと思います。
水槽の水足しに便利
水槽の蒸発した水足し用に購入。フロートが2重で付いているので安全に使えます。
I never knew how much I wanted/needed one of these until I found this!
I had a friend who had an auto top off system set up on his tank that was plumbed through his attic to a water source in his bathroom. I loved the idea, but was a bit skeptical about the potential for leaks and overflowing if the float system happens to fail. This self contained system is exactly what I was looking for. With a 5 gal bucket under my tank as the water supply, There's no chance for overflow as my 125 gal tank is able to contain that amount without overflowing. I just have to top off the bucket every other day. The only issue I had was due to the thicker tank border that would not allow the mounting bracket to fit without a bit of modification to both the tank and bracket. Once I got the mounting issue corrected, it has worked flawlessly. My water level never drops more than 1/8" below the edge of the tank canopy. Love it!!!